The Hunt
The dawn light crests the horizon as the intrepid hunters wipe the sleep from their eyes, contemplating the revelry to come. The proud sportsmen don their finery in preparation of the morning's chase and keep their thoughts on the prize awaiting them. Arrival at the storied meadows where this ritual has been performed for time immemorial is joined by a cacophony of participants and spectators. The sound of hounds baying in the background adds to the excitement. The moment is here and the revelers are aflame with anticipation of the moments soon approaching in which they shall bound through the wilderness before them in search of their quarry.
The game is afoot and the well-heeled huntsmen dart forth in search of their prey. Some will be greatly rewarded and some will fall, there will be jubilant shouts and cries of tired desperation as the remaining spoils are quickly rounded up by those who have long trained in this fine art. All for the gift of a brightly…colored…egg.
A little dramatic, but, how serious do your kids take it? The main thing is that now you have a bunch of cooked eggs just waiting for the application of dozens of recipes reserved for just this occasion. The one theme that can tie all of the disparate methods of preparation together is Bubbly. Call it sparkling wine, bubbly, Cava, Prosecco or true Champagne, they can all contribute to that one drink at which no one bats an eye, the Mimosa. Pour one dram of Scotch over a cube at breakfast and risk an intervention, but add a little orange juice to your sparkling wine and now it is brunch.
According to the International Bartender's Association (IBA) the official recipe for the Mimosa calls for mixing equal parts Champagne and orange juice. A similar drink uses two parts OJ and one part Champagne and is known as a Buck's Fizz. Both were invented in the early 1920's and this has led to speculation as to which is the original. Either way, both are delicious ways to observe a hunt as well as perfect to wash down the spoils.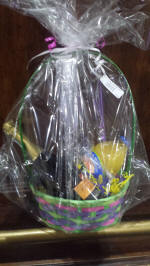 On the way to your hunt be sure and stop by Bubbles and pick up Mom's Morning Mimosa. A bottle of Col Solivo Prosecco, an equal sized Orange juice, 2 champagne glasses (in case she lets Dad have some), all packaged in a pretty little Easter basket just for her. Remember, candy is dandy but Wine is Fine!!! Sale 10.99!!!
~ Randy Freeland ~
Price good through 4/8/15.
Arsenic Awareness

 

Over the last week we have had numerous people asking about the recent reports of arsenic in wines and in many instances, returning some of their purchases. I thought it would be prudent to offer some insight into some of these claims. While decisions on what one puts into one's body are yours and yours alone to make, I believe these decisions should be made with all of the available information. Unfortunately, all of the information doesn't make very good tabloid news reporting which is the type of reporting the vast majority of news outlets in our country give us. They have to sell ad space and commercial time.

 

First of all, arsenic is a naturally occurring chemical that is present in many of the foods we eat such as apple juice, brown rice, chicken, fish and beer. Many women who have dealt with pregnancies know that there are several foods they should avoid eating in large amounts due to this and other heavy metals (not Twisted Sister, a different type of Heavy Metal). Arsenic occurs naturally in many soils, but can also build up as a side effect of pesticide application. It can also be found in Bentonite which is a type of mineral used in the clarification process at a large number of wineries.

 

Next, there is no Federal or State standard for allowable levels of Arsenic in wine. The report states that the lab in question found Arsenic in levels up to 50 Parts per Billion which is higher than allowed in a municipal water supply. This means that these producers have done nothing illegal or wrong at all. In the European Union, there are regulations for Arsenic in wine. They allow up to 200 ppb, nearly 4 times the level found in the wines in question. This means, these producers could sell their products in Europe as "Arsenic Reduced" wine if there was such a category.

 

In my estimation, this is just a matter of fear mongering at its worst. The lab in question is trying to make a name for themselves at the expense of the public peace of mind. We at Bubbles are dedicated to expanding our customer's enjoyment of all adult beverages through education and responsible sales. We are always more than happy to answer any questions our valued customers may have. If we don't know the answer we are more than happy to do the research to find out. It is this level of service that we believe sets us apart from any and all competitors including the out of state chains that are attempting to infiltrate our fine state. Thanks for your patronage.

 

~ Randy Freeland ~

Not Just St. Patrick

Admittedly, this coming week we will all be turning a little Irish and consuming way more green beer than we probably should. The Irish Car Bombs will be exploding and the Irish Whisky will be flowing freely to celebrate the Patron Saint of the Isle of Eire. Unfortunately, it would seem that not only did this saint chase out all of the snakes (my wife would be very grateful); he seems to have run off with all of the grapes too as there is no such thing as Irish wine. So for you oenophiles out there, let us look to another saint, Saint Emilion.

 

While the Saint Emilion to which I refer is not listed in the Roman Catholic Cannon of Saints, it is very important. I am referring to a town on the right bank Bordeaux named after a travelling confessor monk who settled there in the 8th century. This town is, quite possibly, one of the prettiest towns in France to visit as it is surrounded by picturesque ancient walls. It is a UNESCO world heritage site as its steep and winding streets are crowded with ancient ruins and Romanesque cathedrals.

 

More importantly, this Saint Emilion is home to some of the greatest wines on the right bank. Now that I have used the term "Right Bank" twice I should explain what the heck that means. The region of Bordeaux is split in two by the Gironde Estuary. In nautical terms the banks are assigned according to which side they are on as you travel downstream. Since the Gironde Estuary heads in a generally western direction, the right bank is on the Northern side. The right bank, home of Pommerol and St. Emilion and the Left bank, home of the 1855 classification and the most famous Bordeaux such as Lafite and Latour.

 

While the right bank did get snubbed in 1855 when the famous classification was made, it makes lots of great wines based on Merlot and Cabernet Franc. These grapes are used instead of the Cabernet Sauvignon used on the Left Bank due to their love of the clay and sandy soils of the Right bank as opposed to the gravel on the left. I understand that the movie "Sideways" has soured many to Merlot, but the big joke of the movie is at the end when Miles uncorks his favorite wine, a Right Bank, Merlot based wine. One of the most expensive wines in the world upon release, Chateau Petrus, is almost entirely Merlot.

 

It is in honor of this great saint and to try to win back some Merlot fans that St. Emilion is one of our wine regions of the month. Be sure and check our "Tour of Wine" section for some great choices from one of my favorite saints.

 

Chateau La Croix Meunier: The first peces of this small vineyard were acquired around 1840, and are located on old sands west of village of Saint-Emilion, near Château Figeac and of Château Cheval Blanc. Crimson robed, superb, with truffle notes of a great harmony, heavily scented with a well balanced mellowness. Generous and persistent developing aromas of musk and morello cherry, with coated but rich tannins, quite fleshy. Just 23.99!!

 

Chateau Teyssier: This Château dates back to te middle Ages, when the monks were just starting to plant vines. It was in 1929 that the Le Collen Family, later the Moysson-Le Collen family, purchased it. Fresh and pure with succulent raspberry, cherry and blood orange notes showing solid cut and leading to a spice tinged finish that successfully harnesses the vintage's taut side. Only 35.99!!!

 

 

~ Randy Freeland ~

 

Prices good through 3/18/15.

All About Alenjejo

When I was contemplating our wines for our new Tour of Wine section this month I had just finished shoveling a bunch of newly fallen snow and was thinking back to my time in Southern Portugal in the region Alentejo. This region makes some great wines but is vital to the wine industry for another reason. It is home to around 50% of the world's cork production.

 

As one can see in the picture, this is a rather arid, warm region. Perfect for fond reminiscences whilst standing in 8 inches of freshly fallen snow. While there I was able to taste some of the best wines Southern Portugal has to offer. Many people are unaware of Portuguese wine for the same reason that we are ignorant of much Spanish wine; we are unfamiliar with the grapes.

 

Portugal is home to thousands of indigenous grape varietals that are unknown in the rest of the world. Touriga Nacional, Touriga Franca, Arinto, Antão Vaz. The first two grapes have most likely been enjoyed by many of us as they are two of the main grapes used in the production of Port. The last two are white grapes and are understandably foreign sounding as, until very recently, the only Portuguese wine exported in any quantity was Port.

 

The factors that can make the landscape seem so desolate are exactly why grapes do so well there, lots of sunshine, poor soil and arid conditions. Perfect for stressing the grapes and bringing out the best they have to offer. Because of these conditions the reds get ripe and lush while the cooler nights help the whites retain their lip smacking acidity.

 

Don't let your fear of the unknown keep you from trying some truly great wines. Check out some of these selections with the specially chosen recipes available on the Tour of Wine display:

 

Esporão Touriga Nacional: if you are a Cab lover than this is your wine. The intense, deep purple color is a good indicator of what is to come. Rich ripe fruit and violets fill the nose while the supple tannins and lush mouthfeel invite you to try this wine with an equally rich dish such as the Slow Cooker Paprika Beef recipe we have chosen to pair with this mouthful of a wine. Just 34.99!!!

 

Alento Red: Predominantly produced from Portuguese grape varietals typical of this region, the ALENTO RED is garnet in color, with an intense aroma of red berries, well balanced and fresh. Should be drunk young. Perfect with the Risotto Stuffed Mushroom recipe available in store. Only 13.99!!!

 

Alandra Branco: This dry white is made from a selection of indigenous Portuguese grape varieties under the expert supervision of Australian David Baverstock. It is floral, fragrant and delicate, with lime and citrus aromas enhancing a fresh and fruity palate. Pairs exceptionally well with the Brandade we have chosen. 
Just 8.99!!!

 

 

~ Randy Freeland ~

 

Prices good through 3/25/15.

Cork Confusion

I have been reminded of a series we were doing about the confusing world of wine words and realized I never broached one of the most misunderstood words in all of winedom. This term is bandied about by consumers and professionals with nary a thought towards its true meaning. It is no wonder that so few understand what is truly meant when a wine is Corked.

 

I hear the term corked used often and usually incorrectly. I have had bosses who have seen a trickle of wine seeping between the bottle and the cork, eventually ending up a sticky mess under the capsule or on the floor and declared the bottle corked. Others see small bits of cork floating in the bottle or bottles that smell like vinegar and declare them corked. I have even had some sales reps who have presented wines to us without knowing it was corked. How is any of this possible?

 

One of the biggest problems is that the term "corked" is a misnomer as the issue isn't necessarily linked to the closure as even wines under screw caps (known professionally as "Stelvin") can be corked. This is because a wine that is corked is actually tainted with one of several substances that are members of a family of chemicals known as Anisoles.

 

The Anisoles primarily responsible for the phenomenon known as cork taint are 2,4,6 Trichloranisole, 2,3,4,6 Tetrachloranisole and 2,4,6 Tribromoanisole. All of these cause a very unpleasant aroma akin to a musty basement or wet dog, the descriptor is very personal. There is also the problem that sensitivity to the smell of these chemicals varies wildly amongst the population with some immune and some being able to sense it at as little as 1 part per trillion. This is equivalent to 1 gram of one of these chemicals dissolved into the water of 400 Olympic sized swimming pools.

 

A big problem in understanding the problem of a "Corked" wine is that, as stated earlier, there doesn't necessarily have to be a cork. The first chemical listed above is a result of microbes present in the cork. The next two can be present in barrels and in wooden products in the winery such as palates and wooden walls. It is these two that can cause the taint in a wine under a screw cap. The scariest part of all of this is that it is estimated that between 4-7% of all wine is tainted. While it won't hurt you, it isn't the most pleasant experience.

 

So, next time you open a bottle and it smells like your grandma's basement and the fruit has faded from the wine, remember, that particular bottle is probably corked. Another bottle of the same wine will most likely be just fine. Give it another go and we will be more than happy to exchange it for you. If you have any other questions about such topics, feel free to contact us at the store via e-mail or in person and we will be more than happy to answer them.

 

~ Randy Freeland ~